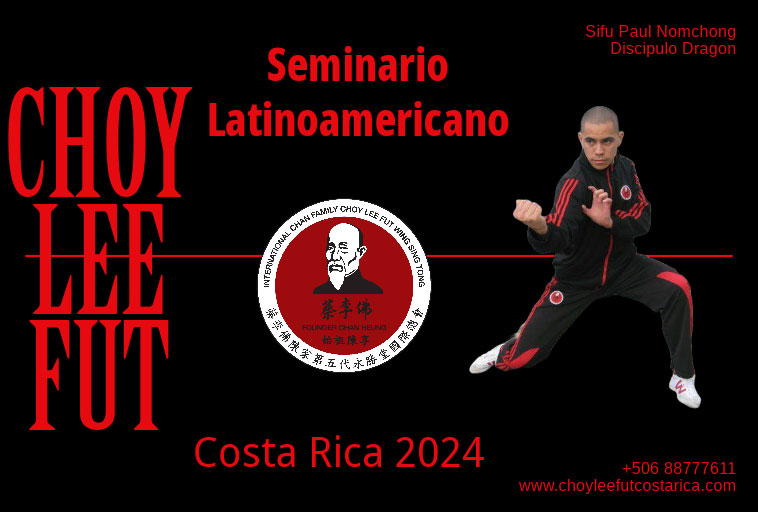 We are excited to announce the Latin American International Seminar of Choy Lee Fut Kung Fu and Lohan Qigong which will take place in Costa Rica from March 5 to 9, 2024, and will be taught by Sifu Paul Nomchong, Director and Instructor of Choy Lee Fut in Sydney and Dragon Disciple of Master Cheng Yong Fa.

This event is not only a celebration of our martial arts practices but also an important opportunity for the growth of all members of the Chan family.
Sifu Paul Nomchong is a Choy Lee Fut Master, beginning his training in 1995. As a Fire Dragon Disciple of Grandmaster Chen Yong Fa, he has participated in and led international seminars, competing nationally and internationally. Additionally, he has been a qualified personal trainer since 2007.
This is a unique opportunity to deepen your Kung Fu Choy Lee Fut and Lohan Qigong practice, improve your well-being and increase your knowledge and skills.
Celebration Event:
Join us for the celebration on March 9, 2024, at 6:30 pm.
Seminar and Celebration Details:
Dates:
Seminar:
Celebration of the 15th anniversary of the Choy Lee Fut Kung Fu School of the Chan Family in Costa Rica:

March 9, 2024, at 6:30 pm
Location: Martial Arts Gymnasium of the Polideportivo de San Francisco de Dos Ríos , San José, Costa Rica.
Cost:
$300 USD for HSG/WST/Disciples (includes Open Sessions),
$75 USD for Qigong Open Seminar session,
$75 USD for Kung Fu Open Seminar session
$15 USD as a contribution for some snacks for the Celebration and farewell.
To confirm your registration, an initial deposit of $100 is required. You have the option to pay only this deposit upon registration and then pay the rest of the amount before at the february 15th 2024. Alternatively, you can choose to pay the entire registration fee at once. Please note that if you make the payment through PayPal, an additional charge of 3% will apply.
Additionally, if you need assistance with accommodation during the seminar, please indicate it in the registration form and we will help you with the reservation as long as the request is at least 45 days before the event.
We look forward to welcoming you to Costa Rica for this enriching and meaningful event, offering an intensive schedule full of valuable Qigong and Kung Fu training.
Requirements to Participate: To participate in the seminar, it is necessary to be HSG, WST or Disciple, or be an active student of a Chan Family School and have obtained authorization from the School Instructor.